I'm going to begin here with the Crimson Tide. I was thinking to myself that Alabama was not the best one-loss program in the country. So who was? My immediate answer was Ohio State. Then I wanted to punch myself in the face. Why? Last week I was having an intense argument with a friend about how head-to-head matters more than anything, and there's no way the Buckeyes should be ahead of Oregon if both have one loss, and there's no way Michigan should be ahead of Michigan State in the same scenario. And here I am going against my own argument. The Buckeyes are simply better than Oregon now, as the Ducks haven't really impressed since that win in Columbus and have a horrible loss to Stanford on their record. So as Stanford continues to get blown out by average teams and Oregon trips through win after win, I have to admit I'd have Ohio State ahead of the Ducks now. And, yes the Buckeyes struggled with Nebraska, but they just blew out giant killer Purdue while Oregon struggled with Washington State. And now Michigan boasts a big road win over Penn State, and the loss to Purdue doesn't look as good for Michigan State as it did a week ago. I guess head-to-head is important and all, but I'll admit it's not the beginning and end all of these college football playoff rankings. I'd have Ohio State at No. 3 and Oregon at No. 4.
*****
Baylor should probably be higher than No. 11, but the Big 12 is obviously going to get zero respect overall and the conference has little to no chance to make the playoff with Oklahoma State the highest ranked team at No. 9. Yes, the Cowboys beat Baylor head to head, but I expected the Bears to move up a bit more after the dominating win over Oklahoma. Heck I'd put Oklahoma State and Baylor ahead of Notre Dame. I think they are better teams. People just haven't watched them enough.
*****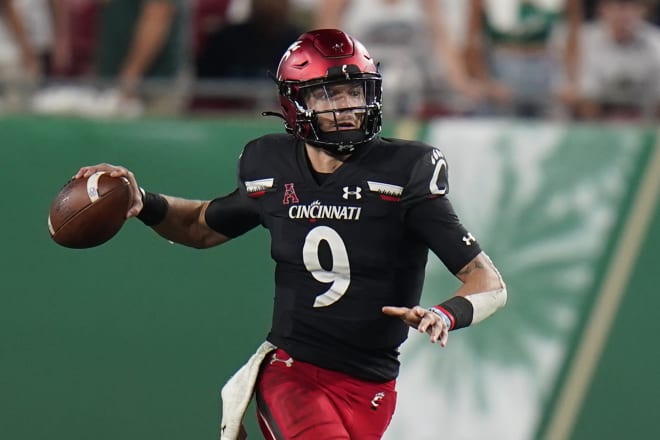 Cincinnati is still hanging on at No. 5, and has a better chance than it did a week ago now that Oklahoma fell from the ranks of the undefeated. I still think the committee is going to shove two SEC teams into the playoff and the Buckeyes and Ducks will get in if they win out. But each week things look a little better for the Bearcats. They need to beat SMU and East Carolina, and I don't think there's any way they should get in with a strength of schedule outside the top 100 in college football.
*****
Good to see some three-loss teams (and even a four-loss team) battling their way at the bottom of the Top 25. Wisconsin started 1-3, and now the Badgers have won six straight to get back in the rankings. Mississippi State has four losses but so many quality wins that it has to be in there at the end of the rankings. A couple of weeks ago I complained about some two-loss teams at the end of these rankings, but at this stage quality wins can now win out.
*****
And finally, Wake Forest as a one-loss team is back in the top 10, but if the Demon Deacons were Clemson they would be in the top four. Convince me I'm wrong. I dare you.
College Football Playoff rankings