Nick Ames has already filed his match report, so I'll leave you with that. Thanks for your company; see you tomorrow for more football. It's back!
"Not bad for an opening match," says Mary Waltz. "Both sides had their moments, match wasn't settled till the 85th minute. Reasonably tense."
Agreed. It wasn't quite Sheffield Wednesday 2-3 Big Ron's Aston Villa, but it was a decent start. Arsenal were impressive, particularly in defence. Plenty of good teams won't win at Selhurst Park this season.
Arsenal begin the Premier League season with a solid victory at Selhurst Park. Gabriel Martinelli's 20th-minute header was a deserved reward for a blistering start in which Gabriel Jesus caught the eye. Arsenal had to work much harder in the second half – another debutant, the centre-half William Saliba, was terrific – before Marc Guehi's late own goal gave them a two-goal cushion. They look pretty, pretty good.
90+3 min A change for Arsenal – Albert Sambi Lokonga replaces Martin Odegaard.
90 min Three minutes of added time. The second goal has knocked the stuffing out of Palace.
87 min Saka's shot hits Guehi and goes behind. Palace have made a double substitution – Will Hughes and Malcolm Ebiowei for Eze and somebody else, Ayew I think.
So much for Arsenal settling for 1-0. They worked the ball nicely from left to right, where Saka ran at the backpedalling Mitchell just inside the area. He switched the ball onto his right foot and hammered a cross that was headed into his own net by Guehi at the near post. It was a really difficult ball to defend.
It's all over now!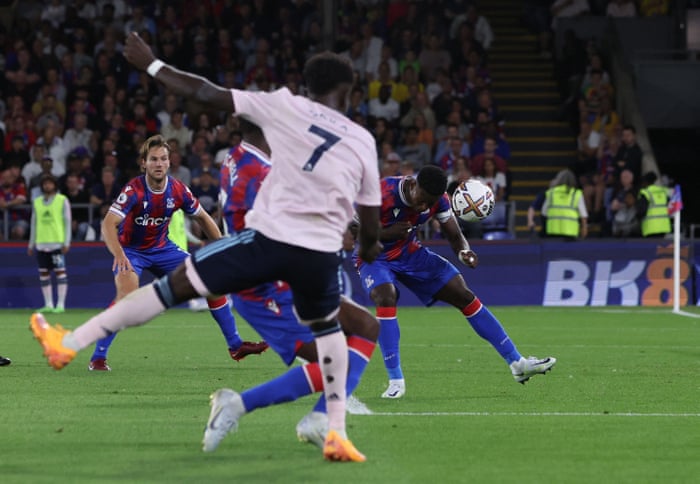 84 min "I think the most egregious mispronunciation of a footballers name was De Bruyne by Martin Tyler on FIFA17," says Jon Tattersall. "I almost took the game back to get a refund."
83 min Arsenal double substitution: Kieran Tierney and Eddie Nketiah for the two debutants, Zinchenko and Jesus. Both were impressive.
82 min Eze goes over right on the edge of the Arsenal area. Zaha collects the loose ball, gets to the byline and has a cutback booted clear.
81 min A fierce cross from Zaha, Palace's best player, flashes across the Arsenal area. Clyne retrives it on the far side and puts it back into the middle. Xhaka heads clear.
81 min Arsenal look like they have settled for 1-0, and in fairness they are defending pretty comfortably. Saliba and Gabriel look really solid in the centre of their defence.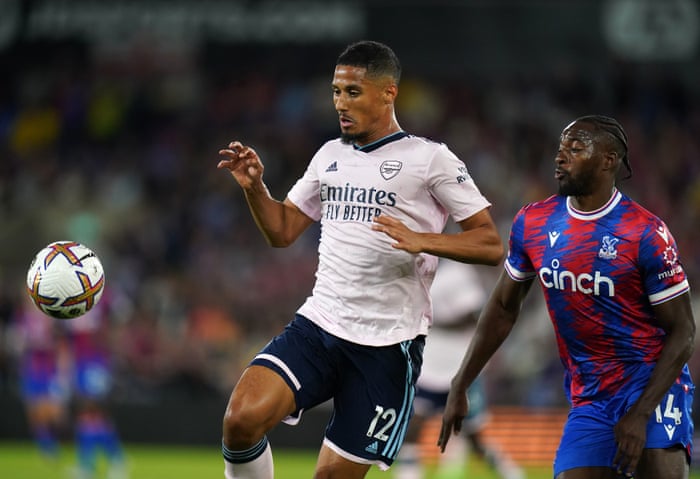 80 min "No, it's Xhaka that is the most mispronounced name in the Premier League," says Per Horfelt. "He is of Albanian descent and there it is prounced 'Jaka'. Ask my wife, she is Albanian."
79 min Eze's free-kick is headed down by Andersen and hacked clear by Gabriel.
76 min "Anything can change and everything is possible," says Yash Gupta, "but as expected this Arsenal team doesn't look threatening."
That's a bit harsh, though they have certainly faded since that blistering start.
75 min Another Palace substitution. Luka Milivojevic replaces the tiring Doucoure in midfield.
74 min Doucoure has cramp. which allows all the other players to have a drink.
73 min "Roberto Firmino by an absolute country mile," says my colleague John Windmill, replying to Joe Johnson's question after 68 minutes. "Firminho or even Firminio. Drives me (and by extension, my wife) up the wall."
72 min Zaha cuts inside from the left and has a shot blocked by White.
72 min Here's that chance for Eze at the start of the second half. The pass from Zaha, a sudden thrust of the dagger, was delicious.
71 min Andersen has played some majestic passes tonight, particularly out to Zaha on the left.
70 min White plays a terrific pass inside Mitchell to find Saka. He moves into the area, but Mitchell recovers well and eventually Saka sprays high and wide from a very tight angle.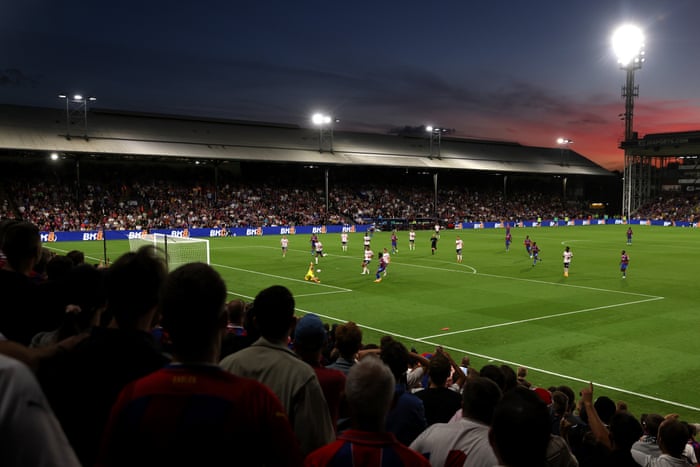 68 min "Hi Rob," says Joe Johnson. "The beginning of a new season, the mind limber, craving stimulation. Reliably informed by a Norwegian friend that Ødegaard should be pronounced 'Erdegord'. I wonder: which Premier League footballer's name is the most egregiously mispronounced?"
I have no idea, but am reminded of when Ole Gunnar Solskjaer had a shot at goal for Manchester United, and the (usually) great ITV commentator Brian Moore shouted "Shoals!" What made it even more impressive is that Paul Scholes wasn't on the pitch at the time.
66 min Schlupp collects a loose ball, surges into the area and has a shot blocked by Partey. If Arsenal don't win this game they will lament a slightly passive second-half performance.
64 min For half an hour it looked like Arsenal would run away with this; since then it's been a very even game. Meanwhile, Clyne is booked for a foul on Martinelli.
62 min A Palace corner leads to a scramble in the area, with Ramsdale saving a shank from his own player Gabriel. It wouldn't have counted because Anthony Taylor had blown for something or other.
60 min White is booked for a foul on the increasingly influential Zaha.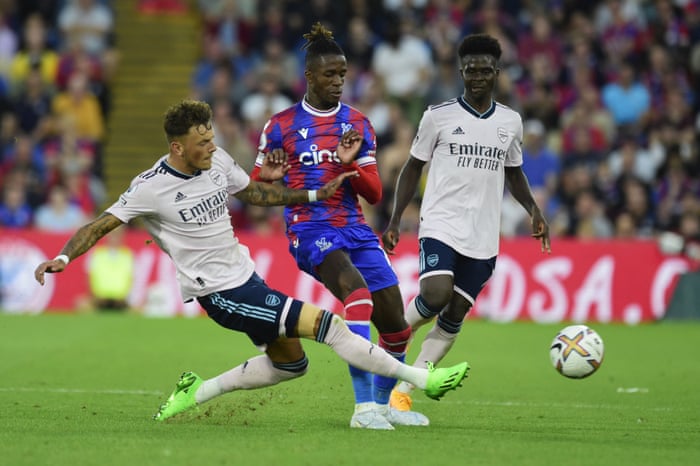 59 min: Chance for Odegaard! Jesus steals the ball off the dawdling Guehi and charges into space down the right. He squares it to Odegaard just inside the area, but Odegaard inexplicably tries to find Martinelli when he should go for goal himself. The ball deflects to Jesus in an offside position, and he has a shot blocked by Andersen. Jesus's shot wouldn't have counted; Odegaard's would, if only he'd had one.
58 min The first of many, many, many, many substitutions in this Premier League season: Jean-Philippe Mateta replaces the disappointing Odsonne Edouard up front for Palace.
56 min Odegaard whips it over the wall and a few yards wide of the near post. A decent effort.
55 min Mitchell fouls Saka 22 yards from goal, a fair way to the right of centre. Odegaard might fancy this…
53 min Zaha's cross hits White and deflects onto his arm. No penalty. Zaha retrieves the ball, beats White in the area and is emphatically tackled by Saliba. He's having an excellent debut. And Zaha, after a slow start, looks bang up for this.