We have a little more detail on the Chinese missiles that reportedly flew over Taiwan during Beijing's latest military drills on Friday.
Meng Xiangqing, a professor at China's military-affiliated National Defence University, spoke with state broadcaster CCTV, lauding the accuracy of Beijing's capabilities.
Our exercises this time included live-firing tests, and it was the first time they crossed Taiwan island."
He added that they passed through an airspace where Patriot missiles – a highly mobile surface-to-air missile system that would be a crucial defence against Chinese warplanes – are densely deployed.
The latest drills also represented the PLA's closest-ever exercises to the island, its first encirclement and the first time it set up a shooting range east of Taiwan, Meng said.
China's official Xinhua news agency reported that the military "flew more than 100 warplanes including fighters and bombers" during the exercises, as well as "over 10 destroyers and frigates."
The Chinese exercises involve troops from the navy, air force, rocket force, strategic support force and logistic support force, according to Xinhua.
The median line is an unofficial but once largely adhered-to border that runs down the middle of the Taiwan Strait, which separates Taiwan and China.
Here is the video clip where Taiwan's president says her country will not provoke conflicts but will firmly defend its sovereignty and national security.
Tsai Ing-wen delivered the video message in response to China's exercises. In it she says: "We are calm and not impetuous, we are rational and not provocative, but we will also be firm and not shirk. Taiwan will never be knocked down by challenges."
China's government has announced sanctions against Nancy Pelosi and her direct relatives in response to "vicious and provocative actions" by going to Taiwan, state media has said.
According to CGTN, Pelosi …
… insisted on going to Taiwan in disregard of China's serious concerns and firm opposition, seriously interfering in China's internal affairs, seriously undermining China's sovereignty and territorial integrity, seriously trampling on the one-China principle, and seriously threatening the peace and stability of the Taiwan strait. In response to Pelosi's vicious and provocative actions, China has decided to impose sanctions on Pelosi and her immediate family in accordance with the relevant laws of the People's Republic of China.
China has not yet specified the sanctions in public.
Australia's foreign secretary Penny Wong has described China's actions as "disproportionate and destabilising". In a tweet she said:
The launch of ballistic missiles by China into waters around Taiwan's coastline is disproportionate and destabilising. I have expressed Australia's concerns to my Chinese and other regional counterparts at the East Asia Summit today.
Australia's foreign ministry has issued a full statement, which additionally says:
This is a serious matter for the region, including for our close strategic partner, Japan.

Australia shares the region's concerns about this escalating military activity, especially the risks of miscalculation. We urge restraint and de-escalation.

It is in all our interests to have a region at peace and not in conflict. Australia does not want to see any unilateral change to the status quo across the Taiwan strait. There is no change to Australia's bipartisan one-China policy.
Japanese officials' recent statements on the tensions in the Taiwan Strait were an attempt to justify the "wrongdoers", Chinese foreign ministry spokesperson Hua Chunying has said during a regular briefing.
Reuters reports that the harsh words come after a planned bilateral meeting between China's foreign minister Wang Yi and his Japanese counterpart on the sidelines of Asean events in Cambodia were cancelled.
Tokyo protested to Beijing yesterday after Japan said five of the missiles China fired in its military exercises on Thursday landed in Japan's exclusive economic zone.
US secretary of state Antony Blinken has warned again that China's "provocative" actions risk a serious escalation and could destabilise the region.
Speaking at a news conference on the sidelines of the Asean regional forum meeting, Blinken told the media that the US has repeatedly told China that it did not seek a crisis. Blinken said that Nancy Pelosi's visit to Taiwan was peaceful, and that "there was no possible justification for what they have done" in response.
The secretary of state said that the US would stick by its allies in the region.
He also said that the US would not be provoked by China's actions, and that US forces would fly, sail and operate wherever international law allows. He vowed that the US would continue to make maritime transits of the Taiwan strait, and also said that the aircraft carrier USS Ronald Reagan would stay in the area.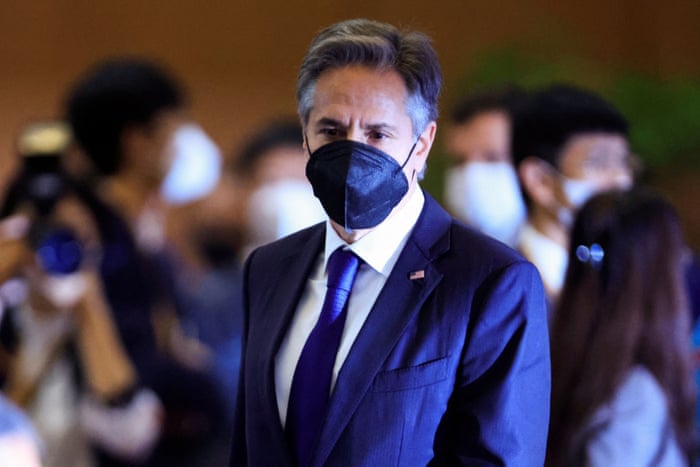 A source in Taiwan has given an anonymous briefing to Reuters, which reports that "around 10 Chinese navy ships crossed the median line and remained in the area on Friday morning, and about 20 Chinese military aircraft briefly crossed the median line."
As yet there has been no official confirmation from the Taiwan ministry of defence on the number of incursions.
Japan's prime minister Fumio Kishida has called for the "immediate cancellation" of China's military exercises aimed at the Taiwan strait.
Speaking to the media after meeting with US politician Nancy Pelosi in Tokyo, Kishida said that he told her "we have called for the immediate cancellation of the military drills", which he described as a "serious problem that impacts our national security and the safety of our citizens".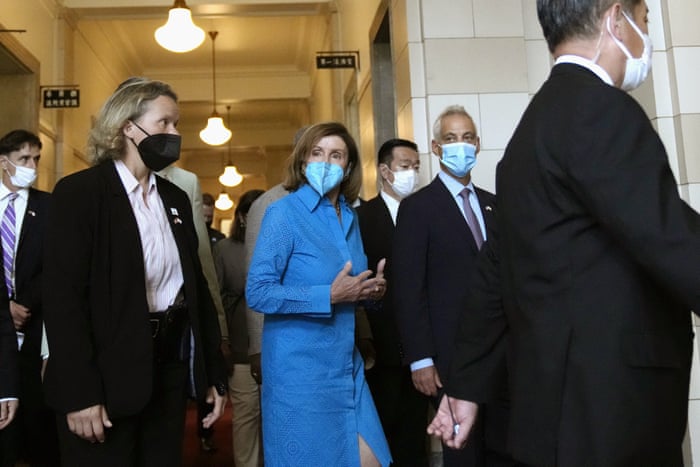 Reuters quotes US ambassador to Japan, Rahm Emanuel, who was with Pelosi earlier, as saying "It is clear that the US-Japan alliance will stand strong, shoulder-to-shoulder, to defend our interests and our values."
In a news conference after meeting Kishida, Pelosi told reporters:
We have said from the start that our representation here is not about changing the status quo in Taiwan or the region. The Chinese government is not pleased that our friendship with Taiwan is a strong one. It is bipartisan in the House and in the Senate, overwhelming support for peace and the status quo in Taiwan.
Taiwan's ministry of defence has posted to social media to say: "We seek no escalation, nor do antagonise others."
It confirms that it has used alert broadcasts, aircraft, naval vessels, and land-based missile systems in its response after "multiple PLA aircraft and vessels were detected participating in drills around Taiwan strait".
On the Chinese coast across from Taiwan, tourists gathered on Friday to try to catch a glimpse of any military aircraft heading toward the "military exercise" area.
Fighter jets could be heard flying overhead and tourists taking photos chanted, "Let's take Taiwan back," looking out into the blue waters of the Taiwan Strait from Pingtan island, a popular scenic spot.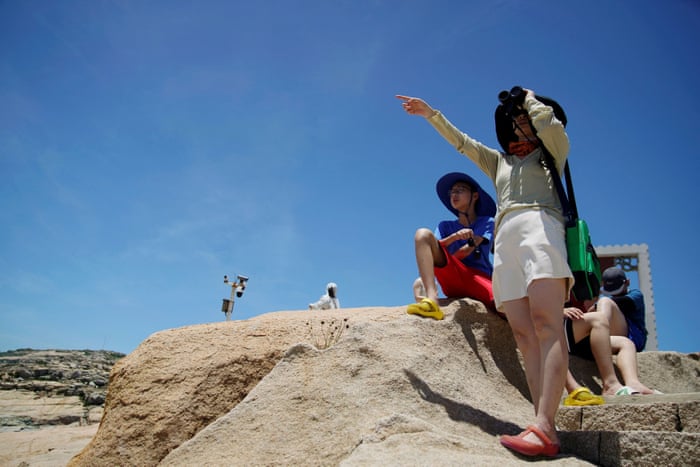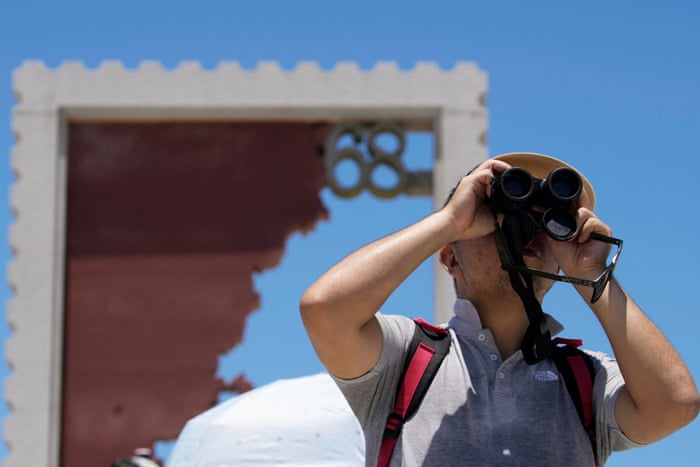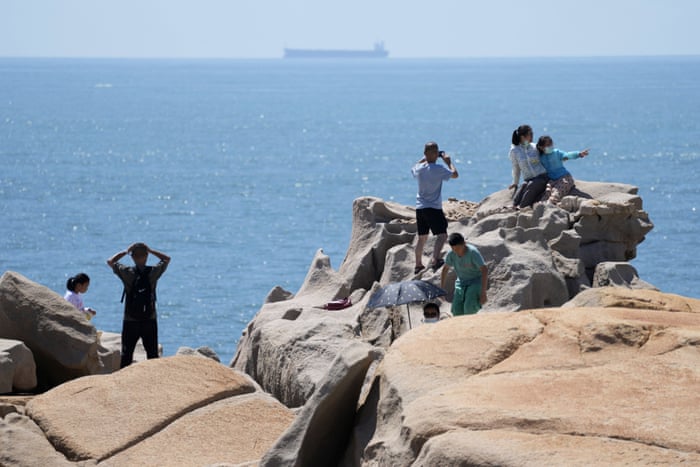 Taiwan's President has issued a statement of reassurance, maintaining the island's military is "ready to respond as necessary".
Tsai Ing-wen made the statement over her official Twitter page just after 1pm.
Our government and military are closely monitoring China's military exercises and information warfare operations, ready to respond as necessary.

I call on the international community to support democratic Taiwan and halt any escalation of the regional security situation."